In our lastpostwe talked about what emissions trading is and, as promised, this week we are going to talk about a specific situation in which we worked with one of our clients and used emissions trading to our advantage.
As a recap, emissions trading is the buying and selling of emissions allowances, or emission reduction credits (ERCs), in a market-based program and it is intended to reduce emissions based on established limits. Emissions trading programs are intended to provide an economic incentive for companies to voluntarily reduce their emissions as this will earn them ERCs.
Once banked, ERCs can be sold on the emissions market or saved for later use. Why would a company want to buy or save ERCs though? What is the motivation?
Well, ERCs can be quite useful primarily in two situations, if a company cannot obtain a permit for their operations in a specific region or if a company produces emissions over their limit. The ERCs can be used to offset any emissions produced.
The team at RECES Environmental has experience in the discovery, negotiation, and implementation stages of the process. We have worked with our clients in many situations where emissions credits were used to our advantage. One such situation took place with a large chemical company we work with.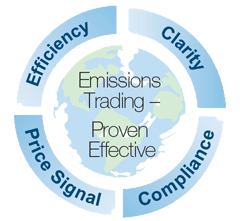 The company has a facility in Sublet County in Wyoming. In this region, winter-level ozone levels are high so the EPA has established it as a non-attainment zone, which is an area considered to have air quality worse than the National Ambient Air Quality Standardsas defined in the Clean Air Act Amendments of 1970.
Receiving a permit for operations that emit ozone would be especially difficult in the region, but our client needed to operate in Sublet County. We were unable to obtain a permit, but we were able to obtain emissions credits would offset the ozone emissions.
We did so by working directly with the Wyoming Department of Environmental Equalityto find a qualified company that had ozone ERCs available for sale. The agency provided a list of companies in the area with credits, but unfortunately, none were willing to sell. Just like in the stock market, brokerage firms exist within the emissions market so we decided to take that route.
We contacted a firm called Elements Marketwho then found a company willing to sell the ERCs that we needed. In the end, our clients were able to operate after obtaining the ERCs despite not receiving a permit.
Non-attainment zones will typically see high rates of emissions trading because of the lower limits compared to other areas. Other examples of these zones are the Inland Empire in California where particulate matter (PM2.5 and PM10) levels are high, and the Gulf Coast where volatile organic compound (VOC) levels are high.
The rules and fees surrounding Emissions Reduction Credits and how to attain them can change greatly from region to region, so be sure to consult with the appropriate local, state, and federal regulators to find out what your limitations and requirements are. When used correctly, ERCs and emissions trading can be used to offset emissions or provide additional income for a company.
If you have any questions or comments about emissions credits or emissions trading, or would like a free consultation for your operations, please feel free to contact Kevin Moin, P.E. by email at kmoin@reces-llc.com or by phone at (281) 529-5087.