I think we all know the feeling of turning in a paper or a test in school only to realize you've made mistakes after the fact. This is especially discouraging if the mistake was a simple one. Wouldn't it be nice to be able to fix the mistake with no penalty after the deadline? This isn't the case everywhere but fortunately, this is the case for some environmental reporting requirements.
Today we want to talk about Toxic Release Inventory (TRI) and Emissions Inventory (EI) submissions. The TRI is a federal reporting requirement that is managed by the Environmental Protection Agency (EPA), and EI is a state program managed by the State agency. TRI is due every year on July 1st for the previous calendar year, and EI's are due in the first quarter for the previous calendar year (for example, in Texas the TCEQ EI is due on March 31st every year for the previous calendar year). Also, EI reporting is for all air pollutant emissions while TRI covers 595 specific chemicals and 32 chemical categoriesreleased to the environment in any media whether its air, water, soil, or waste.
SARA Title III is the federal regulation that encompasses the requirement for those who meet certain thresholds for chemicals specified in the regulation, and Form R's are the forms used to report any releases to the environment. If the TRI thresholds are triggered, then TRI reporting is required to be submitted by July 1st for the previous calendar year.
Correctness is, of course, important, but don't stress out too much about getting absolutely everything correct by the deadline. Do as much as you can by the deadline so you meet it, but keep in mind that you can make any required changes, additions, or deletions. The EPA allows changes to be made to your TRI for up to three years after submission.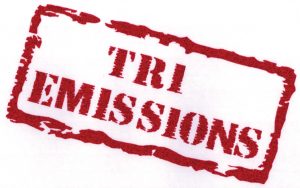 On the EI side, sometime after the March 31st deadline the TCEQ will send you a report and show you what you submitted through STEERS and ask that everything be checked for correctness. This is a nice check made by TCEQ for any regulated entities under EI as TCEQ also allows revisions to be made after submittal. TCEQ will send a reminder in December to submit your EI by the deadline.
The idea is to make your submission by the deadline, along with all the necessary supporting data and calculations, then make adjustments after if needed.
If your facility is required to submit both an EI and TRI, ensure that all TRI chemicals in the EI are speciated, then use this same data for your TRI's air release portion. This will ensure consistency. Keep in mind that the State will compare what the EPA-reported TRI with what is reported in the EI, and they will contact you if there are any discrepancies. In our experience at RECES, we've seen problems arise if EI and TRI are submitted by two different people or teams.
One of our clients in recent years approached us with a project to revise the past three years of TRI submittals as the client realized there were some errors. We have also been involved in situations with clients where they have received letters from the TCEQ notifying our clients of discrepancies between their TRI and EI. We were called to go in and determine which one is correct, then update the incorrect submittal in order to rectify the situation.
If you think there may be a mistake on past TRI and EI submittals or if you need advice or questions answered about future submittals, the team at RECES would be happy to help. Please feel free to contact Kevin Moin by email at kmoin@reces-llc.com or by phone at (281) 529-5087.